---
The best glass for most applications in a northern climate. It has a very high retention rate of the heat in your home in winter and prevents heat gain in summer. Since as much as 95% of your energy expense for heating and cooling combined goes for heating, this glass is more cost effective than other glass without a high SHGC.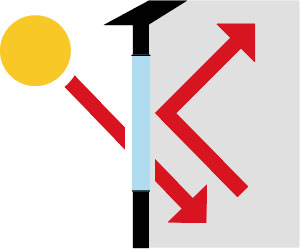 Solar Gain Low E Glass has a higher Solar Heat Gain Coefficient (SHGC) than other Low E glass designed for southern markets in order to retain the Solar Heat that provides FREE winter heat for the homeowner.
Is chosen for uses where cooling costs outweigh heating costs in your energy usage, or where summer discomfort from heat build-up should be an important concern. This is the best glass for most applications in a southern climate. It has a very high reflection rate of the radiant outside heat to prevent heat gain in summer and in winter it still retains radiant heat once you turn on your furnace!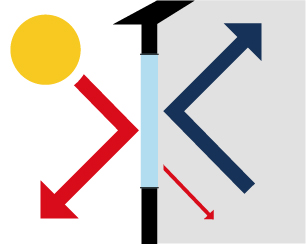 Solar Shield has a lower Solar Heat Gain Coefficient (SHGC) in order to minimize Solar Heat Gain that results in extra work for your air conditioning unit.
Argon Gas filled units reduce your window's conduction and convention of heat. Argon works well with Low E glass to maximize your new window's energy efficiency and performance.
Krypton Gas filling works where Argon can't! It is ideal for smaller air spaces created in triple glazing and can be combined with Argon in intermediate size spaces.
E-Clean Glass combines the benefits of Solar Shield LOW E with unique outer glass coating that gradually breaks down dirt while causing rain to sheet.
With the insulation value of Triple Glass exceeding R8, this benefit is in demand by homeowners looking to save money on their heating bill with the added bonus of being kind to the environment.
VWD's Diamond Premium Glass is 33% to 100% thicker than industry standards—that's why it's called Diamond Premium Glass! What this means is that outside noises stay outside where they belong, truly making your home a sanctuary. A window with Diamond Premium Glass will withstand much greater impact and will be a better insulator.
Best of all, Foam-insulating windows provide an additional benefit to the already impressive advantages of warm edge and gas filling upgrades. The frame makes up about 15% of a window. Foam can provide up to a 10% reduction in heat loss through the window frame.