---
As our standard glass option, solar gain glass has a very high retention rate to keep your home warm in the winter. By its thermal insulation performance, Solar Gain glass minimizes thermal loss. Solar Gain is one of the best performing, low emissivity (low-e) glasses on the market and optimizes the energy efficiency of windows through double and triple glazed panes.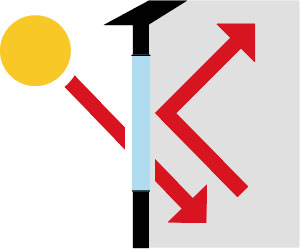 Solar Gain Low E Glass has a higher Solar Heat Gain Coefficient (SHGC) than other Low E glass designed for southern markets in order to retain the Solar Heat that provides FREE winter heat for the homeowner.
Solar Shield glass is engineered to control solar heat gain, which is essential to minimize cooling costs. Solar Shield is chosen for uses where cooling costs outweigh heating costs in your energy usage, or where summer discomfort from heat build-up should be an important concern. Solar Shield blocks 66% of the total solar energy while allowing 70% of the visible light to pass through.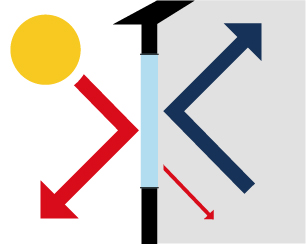 Solar Shield has a lower Solar Heat Gain Coefficient (SHGC) in order to minimize Solar Heat Gain that results in extra work for your air conditioning unit.
Argon Gas is filled between the panes of glass in your windows to reduce the amount of energy loss in your windows. This odorless, non-toxic gas moves slower than air does, slowing down or stopping the energy that travels through it.
Krypton Gas like Argon is filled between the panes of glass in your windows to reduce the amount of energy loss. The difference being Krypton is much denser than argon slowing down the energy even more.
E-Clean Glass combines the benefits of Solar Shield LOW E with a revolutionary coating to keep your glass cleaner, all-year-round. Its unique dual-action coating uses the forces of nature to help keep the glass free from dirt, giving not only the practical benefit of less cleaning but also clearer, better-looking windows.
With the insulation value of Triple Glass exceeding R8, this benefit is in demand by homeowners looking to save money on their heating bill with the added bonus of being kind to the environment.
VWD's Diamond Premium Glass is 33% to 100% thicker than industry standards—that's why it's called Diamond Premium Glass! What this means is that outside noises stay outside where they belong, truly making your home a sanctuary. A window with Diamond Premium Glass will withstand much greater impact and will be a better insulator.
Best of all, Foam-insulating windows provide an additional benefit to the already impressive advantages of warm edge and gas filling upgrades. The frame makes up about 15% of a window. Foam can provide up to a 10% reduction in heat loss through the window frame.