Glass option Dual Pane is standard or Upgrade to Triple Pane
Triple Bond Glazing System
A flexible neoprene dual durometer hugs the glass (marine glazing technique). An exterior/interior wet glazing tape and an interior silicone full perimeter bead (double glazed windows only) provide a great seal!
Argon and Krypton Gas filling
Maximize the insulation value of your sealed unit with your choice of Argon, Krypton and Krypton/Argon blend.
1″ Overall Insulated Glass and 1 3/8″ Triple
Glazed Overall Insulated Glass Results in superior thermal performance. Our optional high performance triple glass with a 1 3/8″ overall seal unit has two 1/2″ air spaces. With Argon Gas and double Solar Shield Low E, this results in a 8.2R (.12U) C.O.G. value.


Insulating System
The TempSmart™ Spacer System is a flexible, U-shaped, silicone foam tape product used to wrap around and cushion our center decorative panel. Featuring a vapor barrier backing, the product used in combination with Hot Melt butyl, provides a superior Warm – Edge seal.

Solar Gain Low E Glass
The best glass for most applications in a northern climate. It has a very high retention rate of the heat in your home in winter and prevents heat gain in summer. Since as much as 95% of your energy expense for heating and cooling combined goes for heating, this glass is more cost effective than other glass without a high SHGC.

Solar Shield Low E Glass
Is chosen for uses where cooling costs outweigh heating costs in your energy usage, or where summer discomfort from heat build-up should be an important concern. This is the best glass for most applications in a southern climate. It has a very high reflection rate of the radiant outside heat to prevent heat gain in summer and in winter it still retains radiant heat once you turn on your furnace!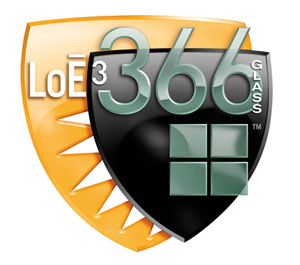 LoĒ³-366
LoĒ³-366 delivers the ideal balance of solar control and high visibility. And it provides the highest levels of year-round comfort and energy savings. It's also the one glass you can use to be compliant in every ENERGY STAR zone – in a double-pane window.